New Spring Issue of The Empty Vessel now available!
0
The new issue of The Empty Vessel is now available in digital as well as print (see our store).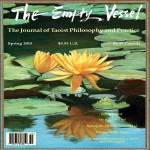 This issue includes articles by Eva Wong, Roger Jahnke, Stuart Alve Oslon and Solala Towler. There is also a delightful interview/conversation between Solala and Koro Kasian Miles on the relationship between Taoism and Zen.