China Tour

A Journey into Daoist China
with Solala Towler
Hangzhou • Wuyi Mountains • Chengdu • Qingcheng Mountain
Stay tuned for more details in 2021
Join us this October as we explore Daoist China…we will begin our journey in Hangzhou where we will go boating upon the famous West Lake, visit the temple of the famous Daoist alchemist Ge Hong and drink tea at some of the traditional teahouses there…then we will take a fast train to the beautiful Wuyi Mountains in southern China, a World Heritage Site and home of the famous Wuyi oolong tea…we will ride down the river on rafts, visit ancient Daoist temples and drink lots of local tea… from there we fly to Chengdu where we will eat hot pot and visit the pandas…we will also be staying on Qingcheng Shan, where we will study the local taiji with a master there, as well as witness the daily Daoist ceremonies in the nearby temple…one day we will hike to the top of the mountain for a special tea ceremony with Daoist priests…then we will spend a few days in retreat at a quiet temple at the back of the mountain before we leave for Mei Guo (Beautiful Country) and home…
All along the way we will practice Wuji (Primordial) Qigong each morning, have Dao talks each afternoon on the principles and practices of Daoism, have group meditation each evening and take part in many rich and soulful gongfu tea ceremonies…
We will be visiting very few tourist places other than the famous Panda Reserve outside Chengdu…instead this trip will be an opportunity to go deeply into Daoist practices…each day, each moment, each step on our journey will be an opportunity to engage with the ancient teachings of Laozi and Zhuangzi and make them a part of our own life journey…
Cost for this 16-day trip"
$5800 for all inclusive double occupancy
$650 single occupancy
What's included
• Roundtrip airfare from U.S. to China and back
• All train, bus and airfare within China
• All hotels, meals, classes
• Local and national guides and translation
• Excursions and sightseeing
• All tips and gratuities
To register for this trip contact us to send a $1,000 deposit. The remainder of the cost will be due 90 days before departure.
Upon registration you will receive a packet of information on China travel, what to bring etc and a reading list.
For more information call or write:
The Abode of the Eternal Tao
1991 Garfield St. Eugene, OR 97405
541.345.8854/solala@abodetao.com
Here's what a few of our participants have said about our trips.
"Thank you so much for planning such a perfect trip for us."
"Thanks again for organizing such an amazing trip. I had a fantastic time and will never forget it."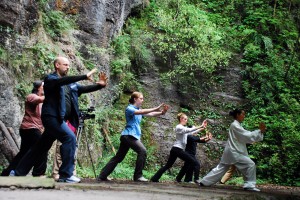 All along the way there will be time for reflection, sharing, exploring, eating incredible food, learning and practicing qigong and making new friends!

We will be working with Dana (Xu Shu Xin), a delightful and experienced guide. She will travel with us for the whole trip and be our guide, translator and confident in the Middle Kingdom.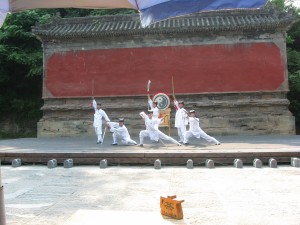 Your Tour Leader
Solala Towler was been editor/publisher of The Empty Vessel: The Journal of Daoist Philosophy and Practice for 25 years. He has had 12 books published on the Daoist arts and has led nine tours to China. He is a certified instructor of several styles of Qigong as well as Daoist meditation. He was a founding board member and past president of the National Qigong Association.
Some of this books are: Tales From the Tao and The Inner Chapters of of Chuang Tzu (Watkins); Cha Dao: The Way of Tea (Singing Dragon); The Tao of Intimacy and Ecstacy and Practicing the Tao Te Ching: 81 Steps On the Way (Sounds True).