Spring Taiwan Tour with Solala!

May 1 – 14, 2024
$5800 includes airfare to Taiwan and back, all hotels (double occupancy), meals, excursions and sightseeing, classes, shows, translator, and travel expenses in Taiwan! Private room $800.
To register call Solala at 541.345.8854 or write to solala@abodetao.com.
If you wish to arrange your own travel (with miles etc) let me know.
If funds are an issue, call me to see if we can put together a payment plan that works for both of us!
Each day will begin with a group breakfast at our hotel, then qigong with Solala and will finish with group dinner and Daoist energy meditation.
All along the way there will be time for reflection, sharing, exploring, eating incredible food, learning and practicing qigong and making new friends!

We will be working with Dana (Xu Shu Xin), a delightful and experienced guide. She will travel with us for the whole trip and be our guide, translator and confident on our journey!
More travel information will be sent to you after registration!
Our itinerary
DAY ONE- TRAVEL TO TAIPEI
DAY TWO
Going slowly as we acclimate to the new time zone.
Doing a little qigong after breakfast…
(Wuji Qigong, an ancient Daoist qigong form from Wudang Mountain)
Rest until lunch…
After lunch visit the famous Wisteria Teahouse
Afternoon off or going out on your own.
Dinner with group.
Evening circle/meditation
DAY THREE
Breakfast at hotel
Qigong with Solala
visit the Longshan Temple, a temple dedicated to Buddhism and Daoism… We will do some divination by using wooden blocks that you drop onto the floor to answer your questions!
A few blocks away is a whole street full of Chinese Herbs stores and stalls.
Lunch.
Eat some mango shaved ice or visit an ice cream parlor that has many strange and wonderful flavors! (Kidney Bean, Mung Bean, Guava, Oolong Tea, Dark Plum, Kiwi Fruit, Peanut, Mango (my favorite)!
Have a private tea ceremony with Master Tsai!
From our friends at the Globalteahut.org:
Many of you who have been to our Center know about the great influence Master Tsai Yizhe has had on all that we do. He is our teacher, brother and a great tea sage. He shares tea and wisdom with a spirit of hospitality that most tea lovers have encountered, freely given the way tea trees open their crown and offer leaves to passersby. His work to protect the environment of Taiwan has earned him our ever-lasting esteem. His works continue to inspire us. Through his preservation efforts, Master Tsai established the Tea Mountain Preservation Society (茶山 保育協會), which works together with farmers around Taiwan and mainland China to create mutually beneficial connections between tea lovers like us and farmers. In exchange for stewarding the land sustainably in ecologically sound ways, the association agrees to buy the entire production from the farm every year. This connects tea lovers to the source of their tea and removes the financial strain from the farmer, allowing them to focus on stewarding the land and crafting fine tea. It is a win-win situation and one we have been supporting since we had the honor to meet Master Tsai.
Dinner
Attend an amazing show at the TaipeiEYE Peking Opera
DAY FOUR
Breakfast at hotel
Qigong with Solala
Ride the longest cable car ride in the world up to Mao Gong, a mountainous area outside of Taipei!
(www.youtube.com/watch?v=9xyOkLkR0nU)
Eat Jasmine tea infused ice cream!
Visit a teahouse where the floor is a pond (with fish), walk over a small bridge, and step across a stone path to reach the tearoom, overlooking the mountains!
Have lunch in a restaurant where tea is an ingredient of every dish! (See video above)
Visit one more magical teahouse overlooking the forest and have high quality with yummy tea snacks! (See video above)
One the way down from the mountain visit a lush Daoist temple dedicated to Lu Dong Bin!
Dinner
Group circle and meditation
DAY FIVE
Breakfast
Qigong with Solala
Travel by train to Miaoli where we will visit the Global Tea Hut center and have a powerful tea ceremony with tea master Wu De!
Also, meet with a powerful mountain-dwelling Daoist master!
We will spend the night at Miaoli
Dinner at night market!
DAY SIX
Visit a tea farm and pick your own tea and process it very simply so you can take it home with you, with lunch prepared by the farmer's wife!
Head down to Sun Moon lake!
(we will spend two nights at this scenic area)
Our guide, Wu De, from the Global Tea Hut, will take us to some very special temples there.
In evening attend dance performance by indigenous natives.
DAY SEVEN
Breakfast at hotel
Morning qigong with Solala
lunch at lakeside
exploring this beautiful area on your own or with group
dinner at outdoor market
DAY EIGHT
Breakfast then qigong on the lakeside.
Head back to Taipei
After lunch visit a huge outdoor flower and artist market with tons of teaware and art at reasonable prices, including jewelry makers and lots of painting, carvings and more from local artists!
Enjoy the best hot chocolate I have ever had (yes, in Taipei no less)!
Dinner together
Evening circle and meditation
DAY NINE
Breakfast
Qigong practice
Rest of the day off for individual exploration and rest.
Dinner together
Evening circle and meditation
DAY TEN
Breakfast at hotel
Morning qigong with Solala
A short train ride to Yingge, where we will be lead on a "forest bathing" hike thru the forest to a magical temple on the top. We will also have a tea ceremony in nature with a local tea master and artist El Kalinado.
If time permits, we can visit the old street with tons of cool pottery shops.
Train back to Taipei for dinner.
Evening circle and meditation
DAY ELEVEN
Breakfast at hotel
Morning qigong with Solala
Visit the world famous art museum
lunch at the museum.
A stroll down Dihua street before dinner. A very interesting area filled with shops, Chinese herbal pharmacies, a tiny temple and lots of cool street food.
Dinner together
Evening circle and meditation
DAY TWELVE
Breakfast at hotel
Morning qigong with Solala
Visit the Yonglian Temple, a temple dedicated to the Goddess of Mercy and Compassion, Guan Yin!
Visit an amazing incense shop that specializes in agarwood (sometimes called aloeswood) incense, described by my Daoist teacher Hua Ching Ni as the highest vibration incense! (Optional)
Learn how to offer incense in the Daoist way, with humility and a special invocation from Hua Ching Ni!
Return to Wisteria Teahouse for lunch.
Visit Zhinan Daoist Temple
DAY THIRTEEN
Breakfast at hotel
Morning qigong with Solala
This will be our last day in Taiwan so we have a little more relaxed schedule this day. There will be time to explore/rest/pack for the trip home or join Solala at another magical teahouse, Qingtian Teahouse.
(https://www.youtube.com/watch?v=_a60bZS1oz0).
Lunch on your own (I recommend the amazing baozi (dumplings)!
my favorite is the one that starts at 1:30 minutes!
A very special last dinner in Taipei
Evening circle and meditation
DAY FOURTEEN
Fly back to Mei Guo (The Beautiful Country in Chinese)
Questions/concerns? write to me solala@abodetao.com or give me a call at 541.345.8854.
The Abode of the Eternal Tao
1991 Garfield St. Eugene, OR 97405
541.345.8854/solala@abodetao.com
Here's what a few of our participants have said about our trips.
"Thank you so much for planning such a perfect trip for us."
"Thanks again for organizing such an amazing trip. I had a fantastic time and will never forget it."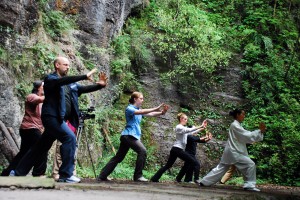 Your Tour Leader
Solala Towler was been editor/publisher of The Empty Vessel: The Journal of Daoist Philosophy and Practice for 25 years. He has had 12 books published on the Daoist arts and has led nine tours to China. He is a certified instructor of several styles of Qigong as well as Daoist meditation. He was a founding board member and past president of the National Qigong Association.
Some of this books are: Tales From the Tao and The Inner Chapters of of Chuang Tzu (Watkins); Cha Dao: The Way of Tea (Singing Dragon); The Tao of Intimacy and Ecstacy and Practicing the Tao Te Ching: 81 Steps On the Way (Sounds True).