Opening Like a Flower
0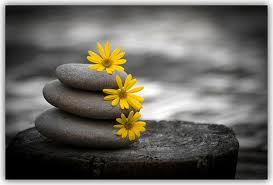 Solala's Blog for week of 3/11/13
The Daphne is blooming, sending its magical fragrance into the air, flowers are popping up in the middle of the lawn and our beloved grandmother willow tree is greening more each day. It seems that winter is transforming into spring, always miraculous, tho I have seen it happen countless times (well, 62 anyway)! I love the changing the seasons, as many of us do. What is it that makes us so happy and excited about each round of the year? Winter in the Pacific Northwest is pretty cloudy and rainy, even dark. Many people around here go into a deep funk when the sun goes away but I guess I am just used to it and it doesn't really bother me. Yet I am always overjoyed when spring comes round again and things begin budding and blooming.
The path of Dao is at once the universal pageant of the constellations and the budding of each new leaf in the spring. It is the constant round of life and death all that falls in between. It resides in us and we reside in it. It is the source as well as the end of our being. It neither judges nor condemns but continually blesses, in all moments – an unending cycle of change and renewal.
I just found out yesterday that my book on spiritual relationship, Sacred Union, will be published by Sounds True, the home of many fine authors, teachers and musicians! I feel my own inner spring buds beginning to unfurl and push their way up to the sun!
It will soon be time to begin getting the garden ready for planting. Of course, as Daoists, our own internal cultivation is a steady and ongoing project. Our spiritual seedlings need to be take care of carefully so that they may grow to become great and beautiful flowers. Yet too much interfering and things may not grow well at all.
Laozi says,
Those who desire to control heaven and earth
will not succeed.
The universe is sacred.
One cannot grasp it or control it.
Those who attempt to control it
Would ruin it.